| Synagogue | Organized | Dedicated |
| --- | --- | --- |
| Hunts Point Jewish Center | 1916 | 1925 |
| Non-Synagogue | Type |
| --- | --- |
| Casita Maria (City funded agency) | church |
928 Simpson
at East 163
Bronx, NY 10459
The building is currently a church.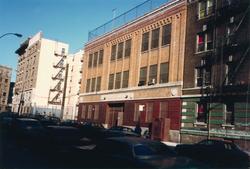 small
-
medium
-
large
-
full
1
|
2
|
3
---
I went to the Hunts Point Jewish Center where Rabbi David Savitz was the spiritual leader. He was very vibrant and more Americanized than other rabbis. He seemed as we would call it today, Conservative and much more to my liking.
---
Rabbi Savitt was most energetic and colorful and an extremely dynamic speaker.
I can remember him speaking to a packed synagogue on Kol Nidre night where you could hear a pin drop, it was so hushed and still. And when he raised his voice to shout, it seemed as though the huge lolly columns and pillars were virtually trembling and vibrating.
---
Rabbi David Savitt, I believe, left the Temple to become the head of Salante Yeshiva in the Pelham section.