| Synagogue | Organized | Dedicated |
| --- | --- | --- |
| Adath Jeshurin | 1932 | 1936 |
| Non-Synagogue | Type |
| --- | --- |
| The Church of God of Prophecy | church |
87 East 165
at Gerard
Bronx, NY 10452
The building is currently a church.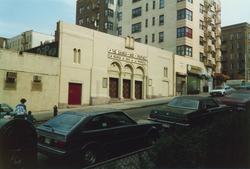 small
-
medium
-
large
-
full
1
|
2
---
Rabbi Schachter was very religious. He made the shul build a divider to separate the men and the women. It wasn't high enough for him. He thought we saw the men.
Rabbi Gross wore a toupe because he was a school teacher and as a rabbi had to keep his head covered. He didn't want the children to laugh if they saw him with a yarmalka.
I belonged to the sisterhood and at one meeting we had Bess Meyerson as our guest. We paid her $25.00 and her husband called for her at 10:00 P.M.
---
B'nai Jeshurun on 165th Street began in a vacant supermarket and gradually expanded into other store fronts. David Hollander was the second full-time rabbi. I don't recall the name of the first rabbi, but I do remember him standing at his lectern for the entire day of Yom Kippur.