| Synagogue | Organized | Dedicated |
| --- | --- | --- |
| Congregation Mishkenoth Israel | | |
| Congregation Hak'nesseth Shearith Israel | 1916 | 1925 |
| Non-Synagogue | Type |
| --- | --- |
| Iglesia Christiana Roca Eterna | church |
841 Southern
at Intervale
Bronx, NY 10459
The building is currently a church.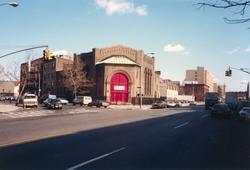 small
-
medium
-
large
-
full
1
|
2
|
3
|
4
|
5
|
6
|
7
---
There was a mikvah in the building. It was the only one in the area.
---
My nephew was Bar Mitzvahed at the synagogue. I was not a member but I bought tickets for the holidays and went to services regularly.
There was a Beth Hamedrash (house of learning) in the basement. The group met daily.
We had different groups - a chevra kadisha (a funeral committee) and a chevra mishnayoth ( a group to study traditional law - biblical commentaries).
Those were the days of real Orthodox synagogues. People cared for each other and had time to study torah. Now, everyone is too busy. No one has time.
---
We were not observant Jews but I attended on Simchat Torah.
---
Children were given chocolate to entice them to attend services on Saturday.
---
I taught at P.S. 39 on Longwood Avenue during the 1950s. I went to the synagogue on Southern Boulevard to say Yiskor.
---
A Mikvah was installed while I was still a youngster. The rabbi at the time was Rabbi Judah Altusky. When Rabbi Altusky left, Rabbi Miller came to the congregation. He was a very dynamic and dramatic rabbi.
---
I was the only girl in my class for 4 years and attended services every Saturday. I loved it but I could never lead Junior Services because I was a girl. I was the only one of my friends who attended Hebrew School and was one of the few women of my generation who could daven. I very much resented that my twin brother, who botched it and had to be tutored for his bar mitzvah, had a bar mitzvah and I couldn't do an hoftorah or be recognized because I was a girl in an orthodox family. Mr. Zimmer was my Hebrew School teacher.