| Synagogue | Organized | Dedicated |
| --- | --- | --- |
| Hunts Point Chevra Bikur Cholim | 1929 | 1934 |
| Non-Synagogue | Type |
| --- | --- |
| Iglesia Pentacostal Casa de Dios | church |
823 Faile
at Lafayette
Bronx, NY 10474
The building is currently a church.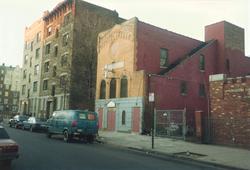 small
-
medium
-
large
-
full
1
|
2
|
3
---
Temple Bikur Cholim was on Faile Street between Gilbert Place and Lafayette Avenue. It was an orange-bricked building, 2 floor, with an iron staircase on the outside leading to the Junior Congregation Service upstairs.
---
Rabbi Gorelick was our rabbi; a Rabbi Goldman used to assist in Hebrew School. I remember that Mr. Lifshitz was our Hebrew School teacher and that a Mr. Newman was a volunteer helping us incorrigibles at the service. I was one of those incorrigibles.
---
I was Bar Mitzvahed at the shul on Thursday, May 3, 1934 - with no formal lessons on how to read the haftorah. The reason it was on a Thursday was that my grandfather died less than two months before. So, promptly after the First Minyan was over, at 8:00 A.M., I walked to James Monroe High School about half an hour late for class, but happy. There was no such thing as a fancy bar mitzvah at that time. Sponge cake and honey cake were the prizes that morning.