| Synagogue | Organized | Dedicated |
| --- | --- | --- |
| Chevra Shomrey Sabath | 1920 | 1926 |
| Non-Synagogue | Type |
| --- | --- |
| Church of God, Seventh Day, Inc | church |
335 Beekman
at East 141
Bronx, NY 10454
The building is currently a church.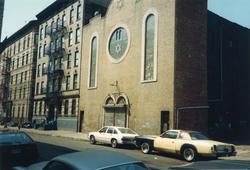 small
-
medium
-
large
-
full
1
|
2
|
3
|
4
|
5
---
My parents, my brother and I came to live in the Bronx in 1943 from Montreal, Canada. My brother had his Bar Mitzvah there in 1945.
---
The congregation was Orthodox. The women sat upstairs and the men sat downstairs.
My mother took me to services on the Holidays. The synagogue had no air conditioning. It was hot and stifling. I never really wanted to go with her. When she passed away, I never returned for services.
---
During the holidays, the children played outside and ran up and down the stairs. Old men kept yelling, Shah, shah.
---
The choir had men only. There were mostly fathers and sons in the choir.
They spoke only Yiddish in Hebrew school.
Everyone walked to the synagogue on the holidays. There were few cars and everyone lived in the neighborhood.
Both my brother and I were Bar Mitzvahed at the Beekman Avenue synagogue.
---
The Beekman Avenue Shul was an orthodox one. Upon entering the building, one had to walk up three steps into a lobby that led onto the first floor stebel, where only the orthodox dovened. It had a mechitza separating the women from the men. The torah and the prayed books were read by the very learned, as the rabbi performed elsewhere, but there was a gobbi always in attendance. As a child, I remember that the speeches and appeals were always in Yiddish.
On the second floor, however, was a more important looking shul. There were beautiful stained glass windows, with an ark held up by two gold lions on either side. Here, the rabbi dovened with a much larger congregation. The men seemed more affluent and more committed to appeals. On the Jewish holidays, the chazan chanted, and the service was enjoyable. Looking upward, toward the ceiling, you could see the balcony. The balcony was for the women who came to pray or just socialize. Some women were able to follow the services.
This upper level also served for ufrufs and bar mitzvahs. A baby naming was also part of the service. It was from the balcony that the ladies threw bags of candies, nuts and raisins after the torah was read to celebrate a happy occasion.
Torah and Hebrew were taught to the young boys in the Hebrew School four days a week after school and Sunday mornings. I don't recall any girls ever attending.
Believe it or not, I've really enjoyed remembering the past and the shul around the corner on Beekman Street.