| Synagogue | Organized | Dedicated |
| --- | --- | --- |
| Young Israel of Tremont | 1926 | 1938 |
| Non-Synagogue | Type |
| --- | --- |
| Holy Temple Church of the Lord Jesus Christ of the Apostolic Faith | church |
2075 Clinton
at East 180
Bronx, NY 10457
The building is currently a church.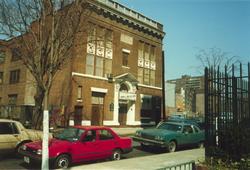 small
-
medium
-
large
-
full
1
|
2
---
Rabbi Paretsky was a young refugee, unmarried, with not too god a command of English when he was hired by the Young Israel. However, within a few years he had earned a law degree, married and established himself. The Y.I. was the hub of our social life with Friday night guest speakers, Saturday night melava malkes, organizational meetings, weddings, bar mitzvahs, etc.
---
I was bar mitzvahed at the Young Israel. The rabbi was A. Peretsky, who was a good rabbi, gave some thought provoking sermons and was liked by the congregation. The president was a Mr.Block. who was well respected. On my bar mitzvah day I remember playing a football game with my bar mitzvah pants on. I almost tore my pants. Lucky for me. For had I, I wouldn't be able to write this to you.