| Synagogue | Organized | Dedicated |
| --- | --- | --- |
| Congregation Gan Eden Temple | 1934 | |
| Sinai Congregation of the Bronx | 1944 | |
| Non-Synagogue | Type |
| --- | --- |
| Fountain Spring Baptist Church | church |
2011 Grand Concourse
at East 179
Bronx, NY 10453
The building is currently a church.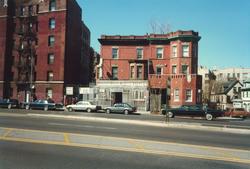 small
-
medium
-
large
-
full
1
---
It was a small temple in a little private house. Because we were a small temple everyone knew each other. There were 200 to 250 families at the most. We were called, Sinai, The Friendly Temple.
My husband and I were members from 1950 to 1977 when the synagogue was sold.
My two daughters attended Sunday School for three hours on Sunday morning. They learned to read Hebrew as well as children in Orthodox and Conservative synagogues.
We had a social hall in the basement where the Bar Mitzvah celebrations were held.
After Friday evening services, Rabbi Saville would ask from the pulpit, Do all the ladies have rides home?
In 1977 the temple disbanded and whatever members were left joined Sinai Temple of Mount Vernon.