| Synagogue | Organized | Dedicated |
| --- | --- | --- |
| Congregation Mesilath Yeshurin | 1926 | 1930 |
| Non-Synagogue | Type |
| --- | --- |
| Templo Pentecostal Del Dos Viviente | church |
1921 Walton
at East 177
Bronx, NY 10453
The building is currently a church.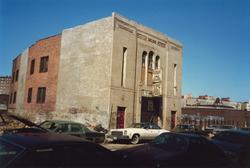 small
-
medium
-
large
-
full
1
|
2
---
I went to say Yiskor in a downpour. I knew I shouldn't bring an umbrella to the synagogue. When I entered I put it in a corner near the front entrance. When I left after the service, the umbrella was gone.
On the holy days there were services downstairs (the less expensive seats) and upstairs which my parents attended.
My father made frequent trips to the women's balcony because, I suspect, he became restless as the service dragged on.
I seem to remember there was always a man with a window pole who tried endlessly, but in vain, to satisfy the women, some of whom wanted the window open, while others preferred it closed.
---
The rabbi's name was Molitan. He had three daughters. His wife now lives in Jerusalem.
We always had a large turnout but in the 1970s people moved to Co-op City. The Young Israel of University Heights on Townsend Avenue sold their building and joined our membership.
In 1975 we had to sell our building. It was painful. When we sold the shul everyone wanted money for their favorite institution. We gave money to Rabbi Molitan as well as Rabbi Greenberg, who came to us from Young Israel.
We gave money to Young Israel in Israel as well as to some yeshivahs. In one case, we sent a check to a yeshivah in Israel by travelers who visited there and the check cleared before we could cover it. The check bounced. A former member took the siddurim and the plaques were given to other synagogues. We sold several religious articles to a member who moved to Muncie and found he made a profit. The few remaining people in the neighborhood went to minyon at Temple Zion on the Concourse.