| Synagogue | Organized | Dedicated |
| --- | --- | --- |
| Congregation Netzach Israel | 1941 | |
| Non-Synagogue | Type |
| --- | --- |
| Whosoever Will Baptist Church | church |
1651 Popham
at West 175
Bronx, NY 10453
The building is currently a church.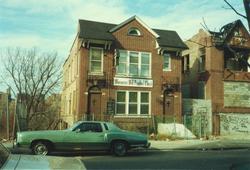 small
-
medium
-
large
-
full
1
---
My maternal grandparents, Rabbi Israel and Rachel Movshowitz (Mowshowitz) were the founders/organizers of the Synagogue in 1941. I believe my grandfather passed away in 1942, when I was about 4 years of age. My uncle, Rabbi Joseph Mowshowitz then assumed the leadership role of the Synagogue. I actually lived in Indiana as a child but moved to 1651 Popham Ave. with my mother after my parents were divorced in 1945. At that time, the upstairs of the building was a rental apartment and we lived on the ground floor which was partially a Synagogue and the rest was living quarters. I remember as a young child sitting in the kitchen on "Yom Kippur" eating while peering through the doorway at people sitting in the Synagogue. A few years later the ground floor was remodeled to be a Synagogue in its entirety and we moved upstairs.
I recall there being morning and evening services daily in the Synagogue attended primarily by elderly residents of the neighborhood but occasionally (after my Bar Mitzvah) I would be summoned from a "stickball" game outside to help make up a "minyon". I have many fond memories of those years and especially recall the sermons being given in "Yiddish" , women sitting in a separate section, one of my non-Jewish friends coming in after Friday night services and turning off the lights and turning them on again early Saturday morning.
I lived there until I went away to college in 1954 and spent some vacations at home until I graduated in 1958 and have never been back to the old neighborhood since.