| Synagogue | Organized | Dedicated |
| --- | --- | --- |
| Mount Eden Center | 1924 | 1929 |
1650 Morris
at Mt Eden Pkwy
Bronx, NY 10457
The building is currently abandoned.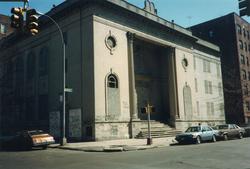 small
-
medium
-
large
-
full
1
|
2
|
3
|
4
|
5
|
6
|
7
---
Rabbi Hollander was the first American Rabbi to go to Russia after World War II.
---
---
We held our boy scout meetings in the gymnasium of the Mount Eden Center.
The synagogue had a balcony for the women and a domed stained glass roof. My family and I were members from 1930 to 1950.
---
I remember that the Cantor was Abner Sobol and the rabbi was David Hollander.
---
My grandmother was a founder and received a certificate from the members for her work. The Rabbi was David Hollander who had just gotten married and received a life time contract. He moved into our private house and became our tenant. He helped in the burial of my grandmother who was taken into the synagogue to honor her. He also officiated at my son's bar-mitzvah and my husband's burial. I am now 80 years old.
---
I went to Mount Eden Jewish Center for many years. My teachers were Mr. Strauss, Rabbi Pinchas Twersky, and Rabbi David B. Hollander. Thank you for helping me recall some of my great Bronx past.
---
We had a beautiful shul. There was a small worship place (a bas amidrash) in the basement and a large room and an arch on the street level. All organizations met there. The most affluent people were members. I had gold plaque put up for my husband in his memory.