| Synagogue | Organized | Dedicated |
| --- | --- | --- |
| Fulton Avenue Y. M. H. A. (Bronx Jewish Center) | 1924 | |
| Non-Synagogue | Type |
| --- | --- |
| Fulton Community Correctional Facility | jail |
1511 Fulton
at East 171
Bronx, NY 10457
The building is currently a jail.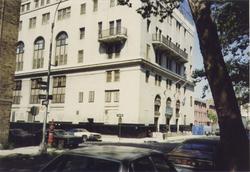 small
-
medium
-
large
-
full
1
---
There was an indoor track surrounding a full-sized basketball court on the top floor. A large synagogue was on the ground floor.
The men occupied the seats on the main floor and the women sat in the gallery. There were no pews attached to the floor. The men sat on folding chairs, which, when folded away, left the floor open for dancing on Wednesday and Saturday nights for young people. I met the young man who would be my husband at a Thanksgiving Day dance at the synagogue.
When I was 7 or 8, I remember going with other little girls on certain Sundays to sit in the main hall to create an audience for the public marriages. The children were given a handful of rice as they entered to pelt the bride and groom. Young women who did not have a family or who were too poor to make a wedding were married publicly by the rabbi. All the little girls watching were awed by the bride's beautiful white dress and veil (which, in retrospect, couldn't have been opulent). When the bride and groom walked down the aisle after the ceremony, we all threw rice and went home to dream of our wedding day.
This synagogue was a large 6 story building. I don't remember an elevator. Above the main floor were classrooms and clubrooms. Bible history was taught and liberal political discussions held. Several young men's clubs held meetings on Sunday afternoons. There was a gymnasium where boys played basketball. It was a place for young men and women to meet. In the summertime, dances were held on the rooftop which was surrounded by a high fence. There was live music and refreshments.
On the High Holy Days the synagogue was filled with people and there was an overflow on the streets. On Yom Kippur the weather was usually hot and sunny. There was no air conditioning. Several women would faint from the heat and the lack of food. There was always a commotion when they were carried out. There were sons and daughters who brought bouquets of flowers for their parents when they left the synagogue at the end of the day.
When there were funerals, the rabbi would preach outside on the top step of the synagogue and eulogize the deceased. The curious children listened and learned who had died and how wonderful he had been.
I grew up at a time when there was a gentler way of life - although we didn't recognize it as such at the time.