| Synagogue | Organized | Dedicated |
| --- | --- | --- |
| Temple Tipherith Israel | 1920 | |
| Non-Synagogue | Type |
| --- | --- |
| Russell Institutional Baptist Church | church |
1438 Prospect
at East 170
Bronx, NY 10456
The building is currently a church.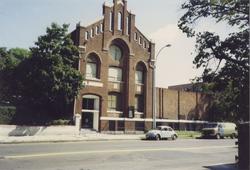 small
-
medium
-
large
-
full
1
|
2
---
My only remembrance relates to my visits to the shul with my grandfather. He would stay with us on occasion, and in those instances he would take me to Sabbath services where he had me up on the bimah to take part in the Kiddish ritual. This was some adventure for a young one. I don't think I was so much impressed by the riligiosity of the moment as I was with the opportunity of sipping the wine and taking part in the oneg shabbat that followed.
---
I remember going there as a child but that was about it. They still have a section of plots at Beth David Cemetery located on Elmont Road, Elmont, Long Island.