| Synagogue | Organized | Dedicated |
| --- | --- | --- |
| Temple Adath Israel | 1896 | 1928 |
| Non-Synagogue | Type |
| --- | --- |
| Grand Concourse Seventh Day Adventist Temple | church |
1289 Grand Concourse
at East 169
Bronx, NY 10452
The building is currently a church.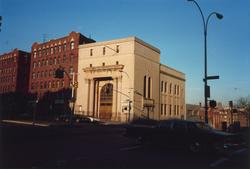 small
-
medium
-
large
-
full
1
|
2
|
3
|
4
|
5
|
6
|
7
|
8
|
9
|
10
|
11
---
Twins were visiting their grandparents and attending services during the Holy Days in 1976. One child said, I want to go home to see the Brady Bunch. The grandmother answered, They aren't home. The children from the Brady Bunch went to shul.
---
I was confirmed at Adath Israel when Richard Tucker was the cantor.
---
My dad helped to start Adath Israel on the Grand Concourse. Rabbi Henry Schorr was the Rabbi and Richard Tucker was the cantor.
---
When I attended Adath Israel, Rabbi Schorr and Cantor Botashansky were there. The Masada Chapter met at the synagogue.
---
The one item that stands out in my mind was the children visiting their grandparents in the synagogue on Yom Kippur. The grandparents stayed in the synagogue all day and fasted. Children visited during the day, returned to hear the shofar blow at sundown and then walked home with their grandparents.
---
My father and several others helped found Adath Israel. At first we met and had Sunday School in a store somewhere off the Concourse.
At Adath Israel, the classrooms were not comfortable. They were created by movable partitions on the lower floor.
From the age of 16 I taught in the Sunday School. On the High Holy Days we were assigned seats. We sat in the same row every year. When I was 13 or 14 we held the first Confirmation service on Shevuouth. I was in that class. On holidays everyone paraded up and down the Concourse in new finery. It was the thing to do. Cantor Richard Tucker officiated at my wedding in 1943. There was a social club for post confirmation teenagers.
---
Adath Israel was impressive and elegant. My sister was married there in 1932.
---
I remember fondly the grand, high-ceilinged sanctuary with its high benches. My father and my uncle sat together somewhere in the middle, and I have an image of coming to see them at intervals on the High Holidays. There was a stage at which I was too small to have my own ticket, and I remember family and friends taking turns using our tickets at brief intervals to attend the main service upstairs instead of the children's service. The tall, heavy doors to the vestibule and the ticket-taker and his excessive vigilance come to mind.
Rabbi Schorr was quite formal and stately, and set my image of what a clergyman should be like. Throughout, we benefited from the beautiful voice of cantor Mario Botashansky. This stately man, with his goatee, sang beautifully, and I have not heard the likes since in services all over the world. The choir sang from behind a screened balcony over the ark, so I never saw them, nor did I see the organist. But I do recall the choir's Irish tenor, whose voice soared over the sanctuary.
I spent many afternoons in the Hebrew school. Mr. Markson was the principal and the best and most erudite teacher was Mr. Gutman. They were refugees and we benefited from their tragedy. Would that my daughters could have had their Hebrew education from teachers who knew as much.
I wanted to learn how to conduct a service and went one day to Junior Congregation determined to take notes so that I could remember the order. But as soon as I took out my pen and notepad, I was reminded (sternly, as I recall) that I couldn't write there on Shabbos. So I put the pen and pad away, and soon went away myself. I never did lead a service. I don't recall anybody in the congregation who kept kosher or who didn't ride or write on Saturday. That just wasn't Conservative Judaism, in Bronx, circa 1956 (my Bar Mitzvah year).
Those were happy times. Who was to know that it wouldn't go on forever?
---
My family moved to the West Bronx in 1933 when I was 5. Henry Schorr was my rabbi until I moved away from New York in 1952. Louis Lipitz was the cantor, followed by Reuben Tucker who went on to become Richard Tucker of the Met, followed by Mario Botoshansky.
At Adath Israel we were exposed to an organ and mixed voice choir. I can remember as a child how impressed I was with the choir in mortar boards and academic robes, how impressed I was with the officers dressed in top hats, swallow tail coats and striped pants. One of Rabbi Schorr's dreams was to have a proper Hebrew School and unilaterally he committed the congregation to the purchase of a lot that was one huge boulder to the immediate west of the synagogue. There was a faction that felt he had overstepped his authority, which he had, and a mass congregational meeting was held. He prevailed and the Board of Directors resigned with a new Board being voted into office. To build the school, the boulder had to be dynamited to clear the land.
The temple was a bar mitzvah factory. Often there would be 2,3 or even 4 bar mitzvahs on a Shabbat.
The Sunday School was enormous with most of the children lining up once a month before classes commenced to pay $1.00 tuition, which was charged per pupil, per month.
While my parents would attend the service with organ and choir all year, on the High Holy Days they would get seats at the alternative service held in the social hall which followed a more traditional form without music.
In his later years, my father led the services. My mother was president of the sisterhood 3 times for a total of 17 years.
---
The only reason Richard Tucker left Adath Israel to go to Brooklyn Jewish Center was the Board would not approve a $500 increase in his pay.
Richard Tucker was the cantor at my wedding. Several years later, when my younger sister wanted him to be the cantor at her wedding, Richard Tucker's agent wanted, as a favor, $500. which was too much money. Cantor Botoshansky and Rabbi Schorr conducted the ritual.
---
I attended Zichron Moshe and then Akiba Hebrew Academy for several years (between 1958-1962) and my grandfather was Louis Lipitz, famous cantor and associated with Temple Adath Israel before Richard Tucker took his place.