| Synagogue | Organized | Dedicated |
| --- | --- | --- |
| Jewish Center of Highbridge | 1927 | 1936 |
| Non-Synagogue | Type |
| --- | --- |
| La Synagoga Penta Rehoboth | church |
1178 Nelson
at West 167
Bronx, NY 10452
The building is currently a church.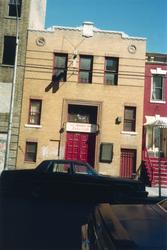 small
-
medium
-
large
-
full
1
|
2
|
3
|
4
|
5
---
I lived in the apartment on the third floor of the building next to the synagogue.
I wonder what happened to the remembrance plaques that were on the wall. My parents' names were on the plaques.
---
There were over 300 children in the Talmud Torah.
There was an active sisterhood which raised from $7,000 to $10,000 a year. There were card parties, luncheons and bazaars.
At the beginning, women sat upstairs but later everyone sat together. The synagogue changed with the times.
---
I was Bar Mitzvahed at the Jewish Center of Highbridge in 1964 by Rabbi Nathan Taragin.
I remember the great expansion of the Center - a temple auditorium addition, Hebrew School classrooms, etc.
---
In the 1940s I attended and graduated from the afternoon school. During that period, our rabbi was Rabbi Rabinowitz.
---
The rabbi was Rabbi Tarragon. My children went to Hebrew School and my son started before we moved to Coop City. A few of our friends and neighbors never treated us equally with people who lived in the other part of the community like Noonan Plaza, etc.