| Synagogue | Organized | Dedicated |
| --- | --- | --- |
| Daughters of Jacob | 1897 | |
| Non-Synagogue | Type |
| --- | --- |
| Hebrew Home for the Aged | retirement |
1175 Findlay
at East 168
Bronx, NY 10456
The building is currently a retirement community.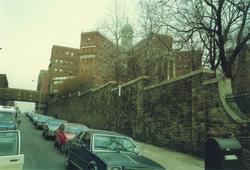 small
-
medium
-
large
-
full
1
---
Many years ago, when I was a volunteer at the Daughters of Jacob, outsiders could go to shul there. Now, only residents are allowed to pray there.
Every Sunday they have a concert at the Home. There are Oneg Shabbats on Fridays. They have services on Rosh Hashonah and Yom Kippur as well as seders on Passover. They never charged me because I was a volunteer.
I remember visiting my parents who attended services for Rosh Hashanah at the Daughters of Jacob.