| Synagogue | Organized | Dedicated |
| --- | --- | --- |
| Jewish Center of University Heights | 1925 | 1927 |
| Non-Synagogue | Type |
| --- | --- |
| Light of the World Christian Church | church |
110 West 174
at Nelson
Bronx, NY 10453
The building is currently a church.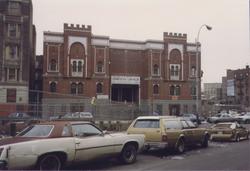 small
-
medium
-
large
-
full
1
|
2
---
The memorial plaques were moved to New Rochelle when the Center was closed.
During the year men and women sat together. During the holidays they sat separately.
When I was three years old I went to Essex Street with my mother to buy material for the Sisterhood Bazaar. My mother gave a big donation because I went along.
My son was Bar Mitzvahed at the shul on Plimpton Avenue because my husband was angry with the rabbi. When my husband was sick the rabbi didn't visit him.
---
After Yom Kippur, we kids collected the no-longer needed Rosh Hashonah - Yom Kippur admission tickets from the congregants. We liked the multi-colored tickets.
Paul Striker gave me a bible as a gift for my bar-mitzvah. I don't remember his position at the Jewish Center.