| Synagogue | Organized | Dedicated |
| --- | --- | --- |
| Young Israel of the Concourse | 1930 | 1960 |
| Non-Synagogue | Type |
| --- | --- |
| Bronx Museum of the Arts | museum |
1040 Grand Concourse
at East 165
Bronx, NY 10456
The building is currently a museum.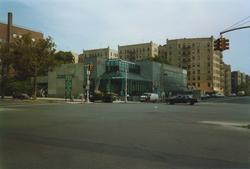 small
-
medium
-
large
-
full
1
|
2
|
3
|
4
|
5
|
6
---
Young Israel holds fond memories for me. It was one of the few Orthodox congregations that educated young girls. I went to Hebrew School until the sixth grade. There was no such thing as a Bar Mitzvah for girls but I received and excellent education.
---
The rabbi was Rabbi Hoch.
---
I was in the Boy Scout Troop that carried the flag at the ground breaking ceremonies.
---
It was a small synagogue, where my sister and I went to Hebrew School and Saturday services. In 1957 they opened a large beautiful edifice, which was just about the time the neighborhood changed.
---
I grew up on 166 and the Grand Concourse. In 1973 my family moved to the Pelham Parkway section. While taking the El into Manhattan, I had an urge to roam the South Bronx in my car with a camera and take pictures of all the abandoned, converted synagogues. Unfortunately, I never embarked on my idea. I did not have the money, nor the courage (remember what the city was like in the mid 70's), nor the resources to find the various synagogues. You can just imagine how thrilled I am by your work.
One note in connection with Young Israel of The Concourse (the one on the Concourse, not Walton Avenue). My late father was strongly rebuked by Rabbi Hoch when he tried to convince him that it was a waste of money to build the new building, that the heyday of the Concourse was about to end. This was only the late 50's and everyone thought my father was crazy. He was just prescient. One other thing about YI of the Concourse. The building on the Concourse my have had the first succah with an electronic roof which was closed during the rest of the year and when it rained too hard. The succah was a permanent structure with heat.
---
My grandfather was very involved in the Y.I. of the Concourse in the 1930s and I believe he was the editor of the newsletter. I have some of the finished newsletters and rough drafts he worked with.