| Synagogue | Organized | Dedicated |
| --- | --- | --- |
| Young Israel of the Concourse | 1930 | 1937 |
| Non-Synagogue | Type |
| --- | --- |
| Pure Gospel Miracle Revival Church | church |
1015 Walton
at East 164
Bronx, NY 10452
The building is currently a church.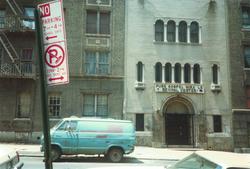 small
-
medium
-
large
-
full
1
|
2
---
When I was growing up, money was always being raised to build a new Young Israel to replace the building. Finally, a new larger building was erected on the Grand Concourse. Now, the synagogue we built from all the money we raised isn't even a synagogue - it's a museum.
---
I was member of the Junior group for a few years until my interest in religion waned.
Young Israel was a small shul when I attended. Because of its limited seating capacity, the shul held High Holy Day services at the Concourse Plaza. A part of the service each year (for twenty years) was an appeal for money for a new building.