| Synagogue | Organized | Dedicated |
| --- | --- | --- |
| Congregation Bikur Cholim | 1933 | |
| Non-Synagogue | Type |
| --- | --- |
| Iglesia El Calvaria | church |
1010 East 174
at Boone
Bronx, NY 10460
The building is currently a church.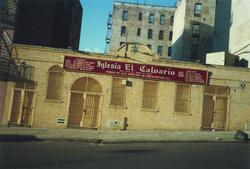 small
-
medium
-
large
-
full
1
|
2
|
3
|
4
|
5
---
We went to that synagogue on Simchas Torah. We had candles and apples stuck on the stick of the flags. The candle was held on the top by a rubber band. We walked around the synagogue with lit candles. It never rained on Simchas Torah. Young women sat upstairs. Older women couldn't walk upstairs so they sat on the other side of a wooden partition.
---
My uncle was, at various times, president there. The rabbi, Chaim Welchansky, was a great talmudic scholar. I remember the big simchas when he finished going through the talmud. The rabbi was also the mashgiach at Isaac Gellis' Bronx meat plant.
---
The rabbi was the mashgiach for Magen David.
---
I went to Talmud Torah at Con Bikur Cholim on 174th Street in 3rd (maybe) and 4th (certainly) grade. In 4th grade (I had skipped 2nd grade and was therefore a year younger than normal), I was coming from an "IGC" class every afternoon that required a train ride back from Castle Hill Avenue to Whitlock Avenue on the 6 train and a walk from there to 174th Street. It seemed like a very long way for a young kid.
I lived a few blocks away on Longfellow Avenue near 172nd Street. The Rabbi had a few interesting techniques. One Shabbat morning he "took attendance" by calling out names of the students, which were on cards. If you were not there, your card was set aside. If you WERE there, your card remained - and the Rabbi's young daughter would pick one of the cards and the lucky child would get a model airplane. What I mainly remember about services was that the younger kids who were doing well were chosen to lead "Ashrie". Everyone got a candy bar on the way out. I thought he had good motivational techniques.
I was somewhat confused in class because we used Ashkenazi pronunciation, but at home I heard Sephardic, since my parents had lived in Israel, and I had memorized the Kiddush and similar prayers. It was a very traditional cheder-type place, it seemed to me then (and now). We were there an hour or two every afternoon, Monday-Thursday, plus going to shul on Shabbat.
---
I attended from Childhood up to 1966 and was Bar Mitzvahed there in 1963.
The doorway to the right was the entrance to the room that was used for studies (I presume for Talmud studies that the second "personal impression" mentioned). When the congregation flourished, it held a service for the high holidays - in addition to the one in the main worship area entered through the middle doors. It was also where the Hebrew School held its student-conducted Saturday services.
The door on the left opens to a stairway down to a series of rooms. One was where I attended Hebrew School; there was a second that was similarly used when the student population was larger, and perhaps as another "overflow" room for holiday services. There was a larger room past these that was used for celebrations.
I must correct the first of the personal impressions in your book. There was no "upstairs," and I think your photo agrees with me. One the right hand side (as you faced the Ark) was the women's section. There was a wooden partition, and I believe they were topped with brass rails from which white curtains were hung (although I don't think they were usually pulled).
I also remember Rabbi Welichansky - his sermons started with him speaking very softly (in Yiddish of course), but he got increasingly loud as the sermon wore on. I understood Yiddish, but I didn't understand why the Rabbi found it necessary to yell at the congregants. I recall that at some point my father agreed with my assessment that this was unnecessary, and we would step out prior to the sermon.
Mostly I remember the sense of community and the very encouraging attitudes of the congregants - they were your neighbors, local shopkeepers, your friends' parents and grandparents. This included the synagogue's officers - if I remember correctly, the president and vice-president circa 1960 were Mr. Greenberg and Mr. Adler, respectively. They were very well respected, and they treated everyone with respect.