| Synagogue | Organized | Dedicated |
| --- | --- | --- |
| Young Israel of Mosholu Parkway | | |
100 East 208
at Waring
Bronx, NY 10469
The building is currently a synagogue.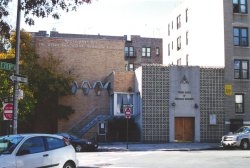 small
-
medium
-
large
-
full
1
---
I am a former North-Central Bronx boy from E.208th St & Bainbridge Av., which is directly across the street from the Sholem Alechem Schul (now occupied by some department of Montefiore Hospital). I was Bar Mitzvahed from the Moshulu Parkway Jewish Center in March, 1957. The Rabbi (whose well-known name escapes me right now) also had married my parents there in 1941. I had also attended Young Israel of Mosholu Parkway when Rabbi Zev Charlot was young and new to the cat-bird seat (we kids often made life miserable for the really nice man). I also attended with friends the teen recreation center provided by the Nathon Strauss Jewish Center on Gun Hill Rd.
There was another temple/synagogue on the corner of Kossuth Ave and E. 208th St that was the original home for the Young Israel of Mosholu Parkway congregation before they bought the 20th St & Steuben Ave corner property and replaced the private home that sat there for many years. I cannot remember what it was called, but as a Bonx Home News paperboy delivering his route, I was stopped more than once and asked if I was Jewish by some older man. And when I answered in the affirmative, was asked to make up the odd man missing for the evening prayer minion.