| Synagogue | Organized | Dedicated |
| --- | --- | --- |
| Congregation B'nai Israel | 1909 | 1917 |
| Non-Synagogue | Type |
| --- | --- |
| First Glorious Church | church |
2080 Arthur
at East 180
Bronx, NY 10457
The building is currently a church.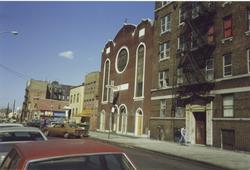 small
-
medium
-
large
-
full
1
|
2
---
When I attended Hebrew School with my sister in 1933, we were the only girls in the Hebrew School. We studied History, Bible and Yiddish reading and writing. We belonged to the synagogue from 1921 to 1947.
I remember that the Reiner family (Carl Reiner the actor and producer) lived across from the synagogue.
During the Holy Days a guard and a policeman were stationed at the door. No one could enter without a ticket. Children never needed a ticket.
My father paid $2.00 a week for my sister and me to attend Hebrew School. During the Depression, the synagogue could not afford to buy coal to heat the building. We sat with our coats on in class.
Mr. Abraham Koch was the head of the Executive Board of the synagogue. He was one of a few men who kept the synagogue going during the Depression.
---
I attended cheder at the synagogue until my Bar Mitzvah in 1934. The synagogue was Orthodox.