| Synagogue | Organized | Dedicated |
| --- | --- | --- |
| Zeire Jacob (Descendents of Jacob) | 1902 | |
| Non-Synagogue | Type |
| --- | --- |
| Iglesia Adventist Del Septimo Dia | church |
1815 Washington
at East 175
Bronx, NY 10457
The building is currently a church.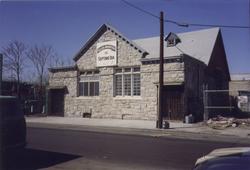 small
-
medium
-
large
-
full
1
|
2
---
Prior to World War I the congregation met at Our Savior Church on Washington Avenue and 183rd Street. One of the members went to Father Duffy, the priest who was the pastor of the church, to ask that Catholics not pick on the Jews. The Father suggested that the congregation open their own synagogue.
---
I grew up on Washington and 180th Street, I went to P.S. 59 for kindergarten and St. Joseph's School for grades 1-8. In your involvement with Aquinas College, you may have rubbed elbows with a Sister Marion Louise (she may also go by her real name), a Sparkill Dominican nun. Sr. Marion was an amazing authority on the local history of the village of Tremont and she told me an extraordinary story. She said that the building that was home to Zeire Jacob was originally St. Joseph's Church. When the parish expanded and needed a larger church, Rev. Peter Farrell had the present St. Joseph's building constructed on Bathgate Avenue. Rev. Farrell later sold the old church to a fur merchant, who was known as Fox the furrier to house a Jewish congregation.