| Synagogue | Organized | Dedicated |
| --- | --- | --- |
| Machzikeh Talmud Torah Torath Moses | 1958 | |
| Non-Synagogue | Type |
| --- | --- |
| Primera Iglesia Bautista | church |
1014 Avenue St John
at Southern Blvd
Bronx, NY 10455
The building is currently a church.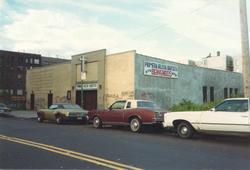 small
-
medium
-
large
-
full
1
|
2
---
My family belonged to Teres Moshe at Prospect Avenue before it moved to Avenue St. John. My father was active in the relocation. I used to count the stars on the dome as I played on my father's tallis fringes. When the undercurrent of noise became too loud the shamus, Mr. Halberstab, would bang a book and Shah the congregation.
---
The following are excerpts from a letter that was sent by the president of the synagogue to Jewish storekeepers in the neighborhood on April 28,1970:
THE ONE AND ONLY SYNAGOGUE IN THE SOUTH BRONX
Dear Friend and Neighbor,
Out of 25 synagogues in the South Bronx, there is only one still in existence. The Machzikei T.T. Torah Moses, at the above address, where one will find daily morning and evening services.
It is kept up by the burning faith and strong will power of a few determined souls, who feel the necessity of keeping the one and only synagogue going, for the benefit of a few old people who did not have the means of moving away and this is their only lifeline.
WE APPEAL TO THOSE OF YOU WHO WORK OR HAVE BUSINESSES IN THE AREA. WE NEED YOUR FINANCIAL HELP IN THE MAINTENANCE OF THIS MUCH NEEDED SYNAGOGUE.