| Synagogue | Organized | Dedicated |
| --- | --- | --- |
| Montefiore Center | 1905 | 1906 |
| Non-Synagogue | Type |
| --- | --- |
| United Church | church |
768 Hewitt Place
at Longwood
Bronx, NY 10455
The building is currently a church.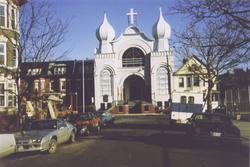 small
-
medium
-
large
-
full
1
|
2
|
3
|
4
|
5
|
6
|
7
|
8
|
9
|
10
|
11
|
12
---
At a time when most sermons were in Yiddish the Montefiore Center had its sermons in English.
---
Rabbi Jacob Katz was also the Jewish Chaplain at Sing Sing Prison.
---
I remember going to Hebrew School between 1933 and 1935. How afraid we were of Rabbi Katz. If you stepped out of line you got a good potch.
After the Bar Mitzvah my parents had the reception at Hoffman's Restaurant on Longwood near Prospect. About two thirds of the way into the lunch my father asked me for the envelopes I had collected. He needed the money to pay for the meal. Those were lean years for my family.
Back in twenties my father served on the Board of Montefiore Hebrew Congregation. He was always so proud of that synagogue.
---
There was a small memorial plaque for the Strausses who went down with the Titanic.
Clifford Odets lived on Longwood and Beck Streets.
---
Boys and girls were confirmed together on Shevuouth when I attended in the late twenties.
---
There was a minyon for preteenagers in the basement. If someone was late he had to start from the beginning.
Tachlis was held at the Bronx River. People had to walk through a Christian neighborhood to get there. Anti-semitism was rampant after Work War II.. Jews carried siddurs in brown paper bags when they went to services.
---
I was Bar Mitzvahed at an Orthodox shul. We had no Hebrew School so my parents sent me to Montefiore for Hebrew School. I hope that I shall always remember the dynamic force of Rabbi Katz.
---
Rabbi Katz delivered a major sermon every Friday night. One night in particular was outstanding. The previous evening (Thursday) the rabbi acted as chaplain at a Sing Sing execution. A Jew had been put to death - Lepke Buchalter - but still a Jew. This was an unheard of affair in our generation. I can still see Rabbi Katz's contorted face, fingers and arms outstretched, body weaving and crying at this shame.
---
Rabbi Katz didn't demand respect. It was given to him. Once, while he was walking down the aisle toward the pulpit, a male stranger rose in his seat as the rabbi passed. The rabbi turned sideways, stared and snapped, 'I don't believe in that humbug'.
---
On Saturday mornings only the older members performed torah services. Therefore, we were excused and allowed to play stickball in the street. At the conclusion of the torah services, Rabbi Katz would come out on the stoop. That was the automatic signal to stop. We returned and finished the service.
Every Saturday afternoon we had a pre-mincha study time. We studied the torah portion of the week. During the winter we studied indoors and during the summer we sat on the fire escape. Mincha was our service. Each young man could be a cantor. We performed the entire service. Rabbi Katz would question the leader about the religious topic of the week. I don't recall anyone being embarrassed by the rabbi's request.
Hebrew School was held two afternoons a week at Montefiore while on Sundays we traveled to Haaren High School in Manhattan for a 9:00 to 1:00 session.
Weekday afternoons, Mr. Zaretsky - conservatively dressed, brown horn rimmed glasses - typical professional teacher was a melamed with class. He tried. He was a peace loving, humane person whose anger was noticed only when a student took too long to grasp what was being taught. Think of a sweet cello and you've got the picture.
On Sundays the exciting spirit of Zionism was the main feature. There was history, song and dance.
---
I was given a blue box to collect money on the streets in that area for charity. I only collected a dime but saw another child receive many coins that went into her box. I went back to the rabbi in tears with only ten cents in my blue box. The rabbi put in some coins and said, Don't cry. All the money goes to the same place. That satisfied my feelings.
---
The Montefiore Synagogue was Reform. On Rosh Hashonah, Rabbi Katz ended services in time for the congregants to eat lunch. The Orthodox synagogues in the neighborhood ended their services at 4:00 P.M.